Klispie Sales & Service is celebrating their 82nd year in business at a new location in Hamburg. Francis Klispie first opened the business in 1933. The original location was on Buffalo St behind his brother Clarence' hardware store.  Clarence sold International Harvester farm equipment, while Francis sold International Trucks. In 1935, Francis sold the first school bus to Hamburg School District 4. The business was moved to 5832 Camp Rd in 1939.  Francis retired in 1978, at which point his grandson, Kevin Klispie, took over the family business. In 2006, Kevin moved the business to its current location at 5914 Camp Rd.

The new location at 5914 Camp Rd has allowed the business to more than double in size, with an expanded showroom, parts room and machine-shop areas. Klispie Sales & Service offers a complete range of engine rebuilding services for agricultural, industrial, diesel, marine and small engine. Aside from engine work, Klispie's has also expanded to include parts and accessories for various motorsports, including snowmobiles, ATVs, dirtbikes, and personal watercraft.

Klispie Sales & Service provides technical support for many local racers. Among those sponsored is the Fintak Brothers Tractor Pulling Team of North Collins, who are the current 2008  2-wheel drive truck class and modified tractor class Champions.

Through the past 82 years of business, Klispie's has upheld a high standard for quality work and superior service. The family tradition continues on so feel free to stop in, call or email us.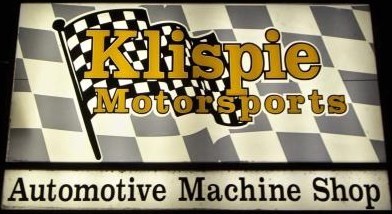 Valve Jobs - Block & Head Resurfacing - Cleaning & Magnafluxing - Pressure Testing - Seat & Guide Replacement - Cylinder Boring - Honing - Align Boring & Honing - Crankshaft Grinding & Polishing - Connecting Rod Reconditioning - Cylinder Sleeving - Crankshaft Welding & Much More!!!!!!